ZOE Crampon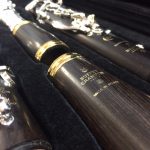 Denis Buffet Auger and his son Jean-Louis Buffet began producing what we know as Buffet Crampon clarinets in 1825, but the brand "Buffet Crampon" was not created until 1836, when Jean-Louis married Zoe Crampon. Their marriage created the brand acknowledged today as the world's leading manufacturer of clarinets. In honor of Zoe Crampon, Buffet Crampon is pleased to introduce the ZOE B-flat professional clarinet.
Inspired Beauty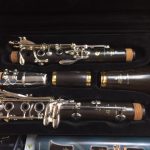 Reflecting the inspiration of Zoe Crampon with a modern interpretation, the features of the ZOE clarinet demonstrate the aesthetic beauty of the instrument, with a beautiful unstained African blackwood body and gold-plated tenon rings, creating a lovely contrast to the luminous sheen of the silver-plated keywork.
Professional Clarinet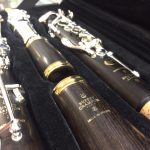 Of course, aesthetics mean nothing if the clarinet does not have the iconic Buffet Crampon "ring" to the sound. Utilizing a poly-cylindrical bore design inspired by the legendary R13, the ZOE has a clear, focused sound with excellent projection and intonation. The physical beauty of the ZOE clarinet is matched only by its world-class playability.
17 keys
6 silver-plated finger rings
Gold-plated tenon rings
Adjustable thumb rest
Leather pads
Available at Hillje Music Centers, LLC
For more information or to schedule a time to try this professional clarinet,